This page is for the brand, for information on the store chain see 77 Kids on the Fictional Retail Wiki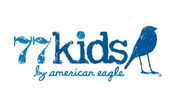 77 Kids (Also known as American Eagle's 77 Kids) is a clothing store chain that sells apparel, underwear, sleepwear, swimwear, and accessories, aimed at children ages 0-14 years. The brand was introduced in 2007 and is the younger counterpart to American Eagle Outfitters.
Ad blocker interference detected!
Wikia is a free-to-use site that makes money from advertising. We have a modified experience for viewers using ad blockers

Wikia is not accessible if you've made further modifications. Remove the custom ad blocker rule(s) and the page will load as expected.